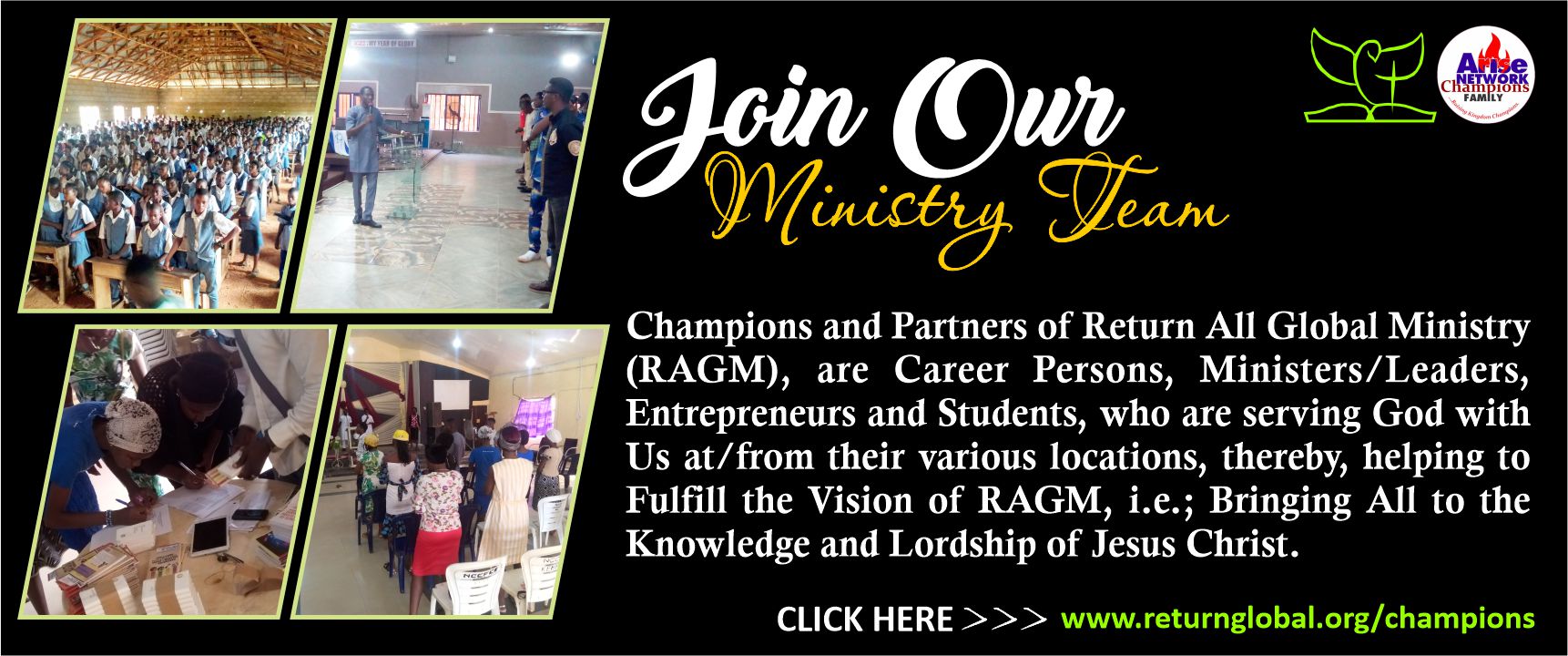 Champions and Partners of Return All Global Ministry (RAGM) make up a Kingdom Community of Believers from various denominations, nations and class. We are made up of Students, Entrepreneurs, Ministers of the Gospel and Career persons who are being blessed by the Meetings, Outreaches and Ministry Operations of RAGM; and have a Commitment to support this Ministry, thereby serving the LORD.
Arise Network Champions Family (ANCF) is the arm of RAGM where Champions and Partners Interact and Fellowship; Plan Ministry Outreaches, Receive Ministry Reports and also Pray together. We believe that Kingdom Service is paramount to winning in all areas of life. So, we offer everyone the opportunity to serve GOD no matter your location. Below are the various strategies through which you can Join our Ministry Team;
Champions: These are Disciples, Protegees and Followers of RAGM. Champions are Discipled and Mentored into Spiritual Maturity and All Round Success; through the Leadership of GOD'S Servant, Pastor Deji David Olanrewaju.
Prayer Partners: These are Intercessors (We fondly call them Mountaineers). They join us from their locations to pray for RAGM Operations/outreaches, Champions/Partners, the Church, the Gospel and the Nations.
Financial Partners: Those who encourage us by giving their finances and resources to support Return All Global Ministry Outreaches and projects. No matter your location, your finances can touch and transform lives for Jesus. Return All Global Ministry is Fruitful Field! To Give to support this Ministry, Click Here.
Volunteer Staff: These are Skilled and Professional Believers who share the burden of this Kingdom work by helping out with Office and Field Tasks. We have Writers and Editors, ICT Professionals, Military Personnel, Ministers of the Gospel, Lawyers, etc; who serve GOD with us through their Profession.
Ministry Representatives: Believers and Leaders who stand in, to help us co-ordinate and execute Ministry operations in their Community, State, Region or Country.
Ministry Friends: These are Christians who love us and will be ready available to help us when the need arises.
You can serve God with us through one or more of these Kingdom Service Platforms
Fill this Form to Join our Team. CLICK HERE!
Click here to Claim your Free Gift