Kingdom Greetings to believers and everyone across the nations. No doubt, God has been good to His people and to the human race as a whole. It is evident that God is with us and is helping us in the Progressive Fulfilment of His plans.
June 2023 is our Month of "MY TIME TO RISE" 2 Chron. 23:1-3. Indeed, it is a New Dawn for everyone connected to Jesus Christ, for the LORD shall bring to pass every promise He has made to you. Men and women of reputation and reckon will Rise from far and near to Help You and to Enforce GOD'S Agenda for your life in Jesus name.
While is it necessary to rejoice in the LORD for a New Dawn; it is more important to understand the demands of this New Season. Romans 13:11 says, "And that, knowing the time, that now it is high time to awake out of sleep: for now is our salvation nearer than when we believed."
It is very important to know the times and seasons we are in. Furthermore, you need to understand that it is High Time for you to Awake and Rise Up to the demands and requirements of this season, so that you can experience the delivery of your Covenant Blessings.
It is not enough to just know that God will do something new for his people. You must also know what to do in order to partake of what is coming. Prophecies do not fulfill themselves. Until you apply yourself to Covenant Requirements, Prophecies remain hanging in the spirit realm, it takes Acts of Faith to provoke Prophecies into Fulfilment. So, every time GOD is sounding an Alarm of a New Dawn and season, He is also drawing our attention to the need to make Quality Decisions in line with His promises.
It is High Time to Wake Up and Make Quality Decisions in line with God's Agenda. Some of the decisions you need to make include;
REDEDICATE your Life to God
Stop sleeping in sin and immortal chase. Even if your name is "Christian", Heaven does not know you except you remain in Christ Jesus. Some of you are in Church but far from Christ. Until you are planted in Jesus, your identity is lost in Heaven. Jesus is coming back soon, it is time to Wake up from the sleep and slumber of immorality and secret sins.
If you have never given your life to Jesus, or if you need to rededicate your life to Him, confess this Prayer genuinely form your heart. Say, "Lord Jesus, I am a sinner. Have mercy on me and wash away all my sin. I accept you into my heart as my Lord and Saviour. From now, I am born again. I receive Championship over sin, satan and the world. Thank you Jesus. Amen!"
RECOMMIT yourself to your First Love for GOD
Some of you have withdrawn your commitment to dedicated Kingdom service. The same job and promotion God gave you has now become the excuse for not serving Him. You used to go for street and bus evangelism, but now, "you cannot see yourself come down to that level."
Rev 2:4-5 says, "Nevertheless I have somewhat against thee, because thou hast left thy first love. Remember therefore from whence thou art fallen, and repent, and do the first works; or else I will come unto thee quickly, and will remove thy candlestick out of his place, except thou repent."
Everyone who has thrown away his or her first love is at the risk of loosing his life (candlestick); because that person is already loosing fire. What is the use of a fire-less candle?
Recommit your life to Kingdom Service, don't allow anything disconnect you from serving GOD, do not allow a break in your fervency. Get back to your first love Now!
RETURN to the Place of Nourishment
Many Christians have abandoned their spiritual lineage and have suffered many defeats. With all the nasty things your biological father did to you and your mother, did you change him? How come you think that you can change your Spiritual lineage? You don't choose who your father in the LORD is, you discover him.
No matter how beautiful where you go is, you will lack certain triumphs if you disconnect from those that God put over you. No matter how humble they appear, maintain your connection and honour them. You cannot get what God wants you to get from them anywhere else.
In Luke 15:20-24, the prodigal son had to rise, go back and negotiate with his father. It was not a session of prayer and fasting. You cannot pray your way into nourishment until you reconnect to your God ordained channels.
Throw away your pride and Return to your father and those that GOD put over you. Don't allow offence to rob you anymore. Return Now.
REACTIVATE your Secret Place
Our generation is a very busy and burdened generation. Many Christians now give in to haste and have stopped or reduced praying and Word study. Other things have occupied your mind and your Fire is sinking.
Lev 6:12 says, "And the fire upon the altar shall be burning in it; it shall not be put out: and the priest shall burn wood on it every morning, and lay the burnt offering in order upon it; and he shall burn thereon the fat of the peace offerings."
Your fire will go down and choke out if you stagger in the place of prayer and Word study. Arise and Restore your Secret Place Now.
Some people have left the Specific Assignment GOD gave them. You have opted for a more beautiful Church. Your field is overtaken by weed and pest, and you are smiling away or possibly labouring in another man's field.
I remember some years ago while Pastoring in Ikorodu – Lagos, some youths organized a vigil to pray because many of them were job seekers, so they invited me as a youth. God told me He will not be at the vigil. I asked why, He said, many of them have my Call on their lives, but they have abandoned my calling in search of jobs. I did not attend the vigil. Today, some of those youths are Pastors. God will give His people jobs but not at the detriment of His Calling on their lives.
GOD will not judge you based on what you do but on what He told you to do. Go back and work your field. You labour on another's field will not count for you in Eternity.
IT IS TIME TO RISE to the Responsibilities of the Season. It is High Time to Awake out of every sleep and slumber of Destiny. There is not Fulfilment without Faith. None of GOD'S Promise will deliver without your Active Participation. You have a Role to Play, no more lukewarmness. Wake Up Now, Destiny beckons on you. God bless you. Arise!
Pastor Deji David Olanrewaju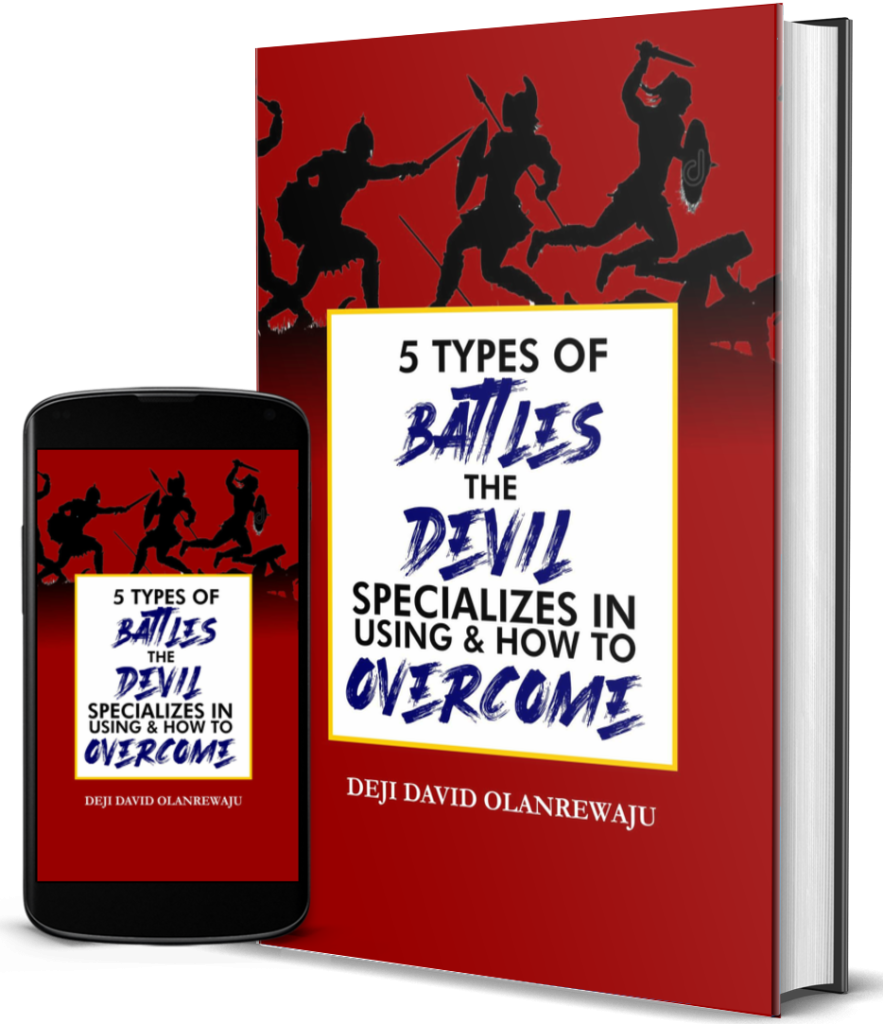 NEW BOOK ALERT! 5 Types of Battles the devil Uses and How to Overcome. AVAILABLE HERE!