RID Leadership Academy is Building Contemporary Leaders who are proffering and implementing solutions to emerging needs of humanity in various fields of influence.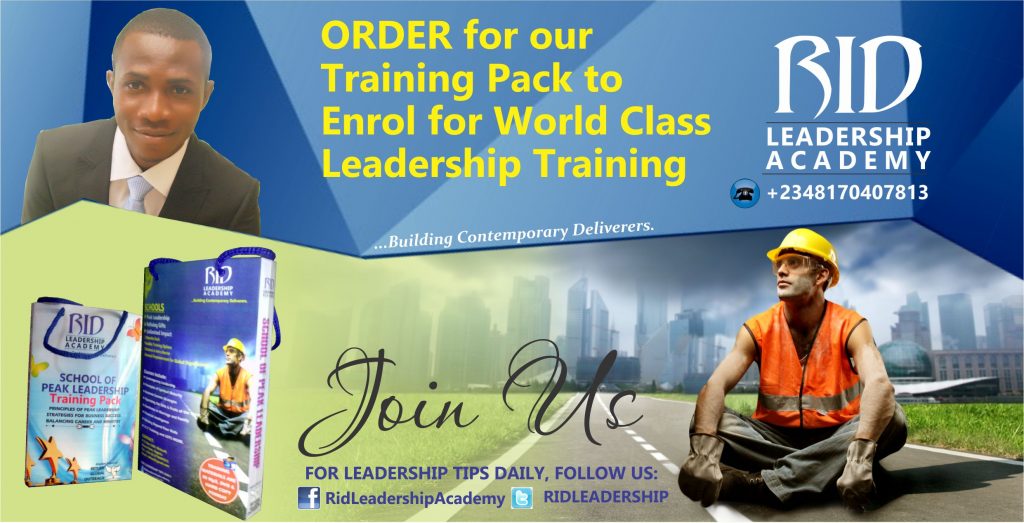 We run a yearly Learning Calendar with 3 Phases per year, that gives you the privilege to register when you prefer. Our Leadership Training is in 3 Phases;
* School of Peak Leadership: 1st Session
* School of Refining Gifts: 2nd Session; and
* School of Unlimited Impact: 3rd and Final Session.
You will enjoy Impactful Leadership Sessions that will stir you into Self Discovery and Mastery, Personal Management for People Development, Discovery of Purpose and Divine Calling, Actualizing Vision with Precision and Lots more. These Sessions will help you Gain and Increase your Kingdom Influence in the Workplace. Get ready for Destiny!
One of the Unique advantages of enrolling at RID Leadership Academy is that, you only pay for Course Materials, and you gain access to Resources, 3 Weekend Online Training Sessions, Online Assessments and other Mentoring Privileges throughout the period of Training.
Register Now to begin your Course Training and Course Materials will be sent to you.
Registration is available in Naira and US Dollars. To register, make a deposit of N7500/$15 to Zenith Bank Account: 1016964801 (Return All Global Ministry). Then text your Names, Phone No, Email and Location to +234 817 040 7813
You can also Register Online. Click on your preferred payment option below.
We also travel on demand to facilitate and train Leaders, Ministers, Church Workforce, Student Pastors and Career Persons. Call us today for enquiries or to book a Training Sessions. Send an email to: ridlead@gmail.com